Three firms win routes across the south of England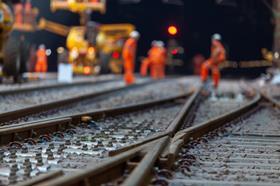 Network Rail has appointed a trio of contractors to carry our £7bn of works on three routes in the south of England.
Under the framework a single contractor was appointed to carry out work on one of three routes.
Bam Nuttall scored the South east route, J Murphy was chosen for Anglia, and Geoffrey Osborne was handed the Wessex line.
The firms will be responsible for building, civils, electrification, power, signalling, telecommunications and track works.
The firms can also be called upon to undertake design works, and the framework may be used by Network Rail in other regions.
The contracts cover an initial five-year period, with Network Rail able to extend them by a further three years.
In total seven companies bid to be on the framework, with the top tenderer being given the opportunity to pick which route it was assigned to.