London mayor announces details of inaugural scheme to develop publicly-owned land for affordable housing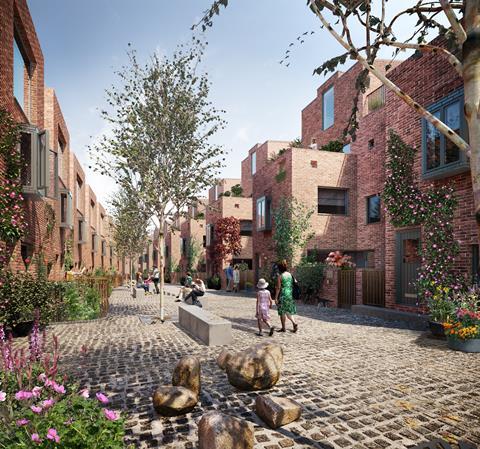 Sadiq Khan's first 'Small Site, Small Builders' housing development scheme designed to develop small plots of publicly-owned land into affordable housing has been given the go-ahead by Barnet council.
Of the 97 homes (pictured), 35 will be what the mayor's office labelled "genuinely affordable", meeting his demand that half of new housing built on publicly-owned land is affordable.
The mayor's office said that with many of the 35 homes' rooms being large in size the affordability level worked out at 50%, using Barnet council's habitable rooms methodology.
The 1.4-acre plot is being developed by Croydon-based building firm Kuropatwa and work is expected to start by the end of this year.
The site, owned by Transport for London, is currently an overgrown patch of land between the North Circular road and a series of detached homes.
Khan has made utilising public land to build homes a key policy target, as was enabling small firms to bid for the schemes via what he called "a simple bidding process and standardised legal contracts".
Twelve small TfL sites in seven boroughs – Barnet, Brent, Enfield, Hammersmith & Fulham, Lambeth, Merton and Tower Hamlets – are in line to be developed to provide housing under the five-year scheme, which is a London Economic Action Partnership initiative backed by more than £17m of public money.
The scheme at Barnet has been designed by Peter Barber Architects.