Church Street regeneration designed by Flanagan Lawrence
A 171-home development designed by Flanagan Lawrence has been approved by Westminster council as the first phase of its 20-year regeneration programme for the Church Street area.
The architect's proposals were drawn up for the council and its arm's-length management organisation CityWest Homes in partnership with developer Linkcity, which is part of French giant Bouygues.
The scheme, which comprises two six-storey residential blocks and a collection of townhouses, will be built on the site of a former railway sidings and coal storage yard off Luton Street that was originally built to serve the nearby Marylebone Station.
The main site currently has 14 vacant homes, two empty community buildings and a row of lock-ups used by traders working at Church Street market. Much of it is still bounded by a railway wall, which will be retained as part of the Flanagan Lawrence scheme. A further three townhouses will be built on a former car park site off Fisherton Street.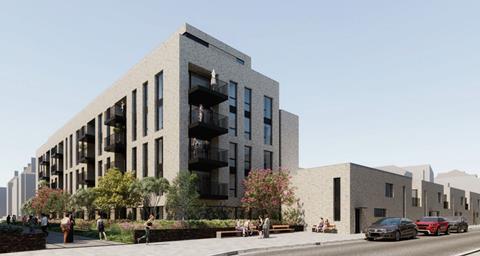 The bulk of the new homes approved will be delivered in the two six-storey blocks, one of which is designated for "affordable" homes. The main entrances to the blocks will face a new "green link" crossing the site from north to south.
Westminster said it expects building to get under way later this year. The scheme would provide £3m of investment in the public realm and the provision of a new sports hall and community facility.
The wider Church Street regeneration envisages creating 1,750 new homes and a new cultural quarter over the next 15-20 years.