"They're not the world's finest results," says David Fison, Osborne's chief executive, before adding that they were "a step in the right direction".
The principal disappointment was the £22m fall in turnover: the contractor did £311m of business in the year to March 2010, compared with £333m in the previous 12 months. Fison blames market conditions for this.
Pre-tax profit rose from £2.4m to £2.8m, although that jump looks more modest than it is because the earlier figure was boosted by £1.2m of interest earned on £30m that Osborne had in the bank. This year it played safe and divided the money between five banks and made practically no interest.
Fison likes to be safe. He joined the Surrey firm in January last year after being "asked to leave" Skanska UK. The reason for the parting was a £41.5m loss, caused mainly by two PFI hospital jobs in the Midlands.
Now he constantly talks about Osborne's no-risk approach. He likes patient, "incremental" increases in profit won by better management, bigger discounts from suppliers, cheaper subcontractors and safe, well financed projects. This strategy is helped by the fact that Osborne is a private company, so less driven by the City's expectations.
"We've been reshaping the business," says Fison. "Most of our jobs are now in the sub-£20m range. That's a deliberate move to take ourselves away from areas likely to be most affected by a downturn. We are still looking at £50-60m jobs if we have the right relationships, but a £50m job is worth fighting over for the very big players - and we're starting to bump into them - so we're concentrating elsewhere."
Current bids include two £40m deals - a mixed-use scheme and an academy, both in the South-east - and a £25m student centre for the London School of Economics. It is part way through its biggest job, the £54m West Thames College, which has another 15 months to go. Meanwhile, it made about 75 of its staff redundant last spring, (leaving about 1,000 workers) in the wake of the Learning and Skills Council college fiasco.
"We had £100m-plus college work coming through, all of which ceased to exist," says Fison. "That was our big drop-off. I'm very proud of the guys who, instead of putting their heads down and giving up, started pedalling again. The colleges are figuring out new ways of doing things, but they're nowhere near construction. We've got two or three under discussion, but it's not where we see our salvation."
Instead, he is keeping an eye on the Building Schools for the Future fall-out, in case de-bundled schools fall into Osborne's bracket of work.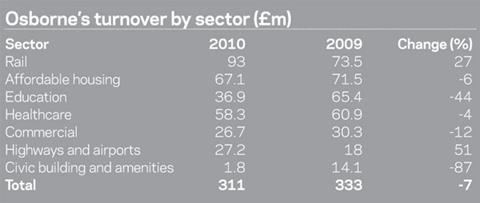 Fison predicts that turnover in 2011 will be the same as this year, with profit slightly boosted thanks in part to the recent sale of a former office in Chichester, West Sussex, on which it will make £2m profit (next year it will consolidate its offices in a leased building in Reigate).
Osborne is also marketing yet-to-be-built offices on a recently acquired section of the Solent business park, near Southampton - Fison bought it near the bottom of the market and has got planning permission.
Meanwhile, its social housing arm continues to tick over at £50m a year, and a railway station upgrade framework brings in steady work, including a £2m pedestrian bridge recently completed near Southampton airport.
That project sums up Fison's pragmatic attitude: "I think it's rather over-designed. Everyone is being told that as a country we have to find cheaper ways of doing things, and to do that we've got to challenge clients. It was very fine and impressive, designed for a thousand years, but did it need to be? Maybe we've got to rethink. We can't say it is business as usual."