Developer already working on £150m UK tech hub for Spanish giant
Osborne + Co, the business Flan McNamara joined after leaving Shard developer Sellar last year, has landed a second job with Santander.
The company is now set to deliver Santander's £75m contact centre and operations hub in Bootle on Merseyside after being chosen as the bank's development partner.
Osborne + Co was also recently chosen by the Spanish bank to develop its £150m UK technology headquarters in Milton Keynes.
The firm has brought in London-based architect JCA, which is headed by Jack Carter who worked with McNamara on the London Bridge development, including the News Building, when he was lead architect at Renzo Piano Building Workshop – the practice behind the Shard and wider redevelopment of the area.
McNamara said: "My first choice as architect for our proposal on the Santander Bootle scheme was Jack Carter, given my very positive experience of working with him at London Bridge Quarter on the News Building.
"The scheme we have developed with Jack and our client is a very sensitive response on what is a very important site for Santander UK."
The proposed facility, which will replace the bank's existing offices in an area where it has been a major employer for nearly 50 years, will house over 2,500 employees. It will be designed with an emphasis on encouraging collaboration among staff and promoting wellbeing.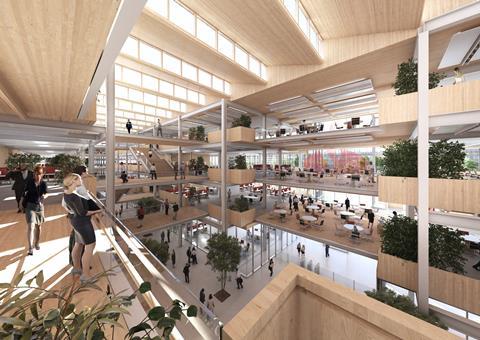 Conor Osborne, another director at Osborne + Co, said the building would be "a state-of-the-art campus and community asset the local area will be proud of" and added: "We will construct an office tailored exactly to the wants and needs of Santander – and its employees – setting a benchmark for large-scale developments in the UK."
Following the expected submission of a planning application to the council early in 2019, Osborne is aiming to start construction of Santander's North-west headquarters next year, with completion due in 2021.
Osborne + Co is targeting a global development pipeline with a gross development value of £5bn over the next three years. It is looking for global growth, searching out new sites in Europe, the Middle East, India and South-east Asia.
In the UK, it is working on the Waterside, Belfast – a 1.7m ft2 mixed-use development. The first phase, a £50m office building, received planning permission earlier this year.