National Audit Office warns not enough is being spent on maintaining the UK's flood defences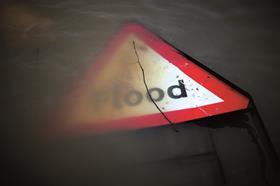 The current level spending on the nation's flood defences is not enough to keep them in working order, a report by the National Audit Office has found.
The report said a lack of spending was set to increase the deterioration of flood defences and therefore increase the risk of floods. It said the problem was worst in areas where there were fewer homes, where spending on flood defences was given a lower priority.
The government made an extra £270m available to improve the UK's flood defences following last winter's flooding in the Somerset Levels.
But the National Audit office said even with this increase in budget the Environment Agency had seen its budget for flood defences cut by 6% in real terms from what it was in 2010-11.
It said the Environment Agency's flood defence projects represented good value for the taxpayer and it had robust processes in place to prioritise spending.
Amyas Morse, head of the National Audit Office, said:"The Agency, as it recognizes, will need to make difficult decisions about whether to continue maintaining assets in some areas or let them lapse, increasing in future both the risk of floods and the potential need for more expensive ad-hoc emergency solutions.
"The achievement of value for money in the long term remains significantly uncertain."