Steel prices set to fall for first time in 18 months
Global market uncertainty could keep construction project costs high despite a return to stability for material prices.
Forecasters expect a reduction in steel prices in the next quarter after 18 months of increases.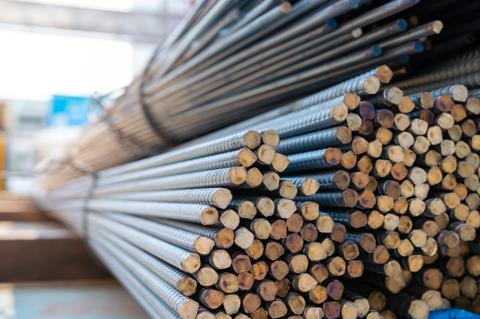 Flat steel is expected to drop 3.9% and rebar by 3.5%, while copper costs are set to tumble a further 17%, on the back of US dollar strength and lower Chinese consumption, according to consultant data released today.
But rising global energy prices, higher interest rates and supply chain disruption mean this may not translate into lower costs for major building projects.
Michael Riordan, managing director at Linesight UK, said: "Despite this growth and the stabilisation of commodity prices, we are seeing uncertainty in the market.
"The government's long-term investment strategy is unclear while increasing interest rates, supply-chain and logistics disruption and labour shortages are making it challenging for clients to plan for large capex projects".
>> Also read: Who pays for materials price inflation?
He said construction projects would need "an advanced approach" to planning and procurement and recommended its clients adopt strategic procurement management and open risk-sharing with contractors.
Construction output has grown for seven consecutive months, despite UK consumer price inflation reaching 9.1% in May, a 40-year high and the most severe in the G7.
The report by Linesight also forecast 1.5% inflation in the cost of brick and lumber prices between Q2 and Q3 – the former reflecting strong demand and energy costs, the latter challenges with distribution.
Diesel prices will remain high compared to pre-covid levels, although Linesight forecast them to fall by between 1% and 5% in the last quarter of 2022.