Ex-chief operating officer Andy Jones to start in September under revamp of contracting division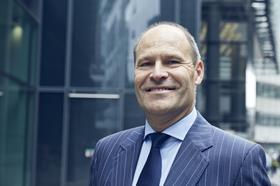 The former chief operating officer of Carillion is joining Mace to head up its major projects arm as part of a wider rejig at the firm's £1.7bn contracting business.
Andy Jones was appointed to the Carillion role last October after 15 months heading the firm's Canada business, which he joined after more than three years in charge of the bust contractor's Middle East and North Africa operation.
He will report to the chief operating officer of Mace's construction business, Gareth Lewis, and will be in charge of a business that carries out schemes worth £150m or more, which will include its fixed-price and construction management work.
Lewis (pictured) said: "He's somebody with significant UK and overseas experience and has a track record of delivering large-scale major projects here and abroad."
Jones, who is currently working with accountant PwC on Carillion's liquidation, joins at the beginning of September under a reorganisation at Mace's construction division which will see its current 10 business units cut down to six at the beginning of next month.
The five other business units will all be headed by internal appointments, which include Phil Coutts in charge of Mace's international business, Ged Simmonds heading the commercial and fit-out business and Simon Garrett leading residential.
Another division, to be called Preach, will include public sector, arts and cultural work along with health and be headed by Terry Spraggett, while the aviation, infrastructure and retail business, called Air, will be led by Nigel Cole.
The firm also has a separate unit called High Rise Solutions, which works on complex high-rise buildings and is being headed by Shaun Tate.
Lewis said the changes come on the back of a five-year business plan that it launched earlier this year and which has seen income from its contracting business grow from £850m in 2013 to £1.7bn last year, with around £1.4bn of this coming from London. Staff numbers during the period have doubled to 1,750.
Lewis added: "We will go beyond £2bn in the next five years without a doubt. But we want to improve our quality of earnings, and construction needs to improve its productivity rates as a whole."
The firm's current jobs include work building new apartments at Chelsea Barracks, putting up Tottenham Hotspur's new football ground and overhauling the former BBC television centre at White City, west London, which it is due to complete in August.
Mace is also appointing technical directors to each of its six business units with these heads reporting to the firm's recently appointed chief technical officer Steve Jeffery.
Lewis added: "Buildings in London and Europe are more technically complex now and we need to understand those risks."
The firm carries out around £500m worth of work overseas, working mainly on data centres in Europe for tech firms and banks.