Richard Adam, ex-chief executive Richard Howson and chairman Philip Green were singled out by MPs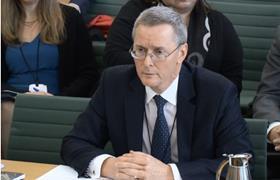 Former Carillion finance boss Richard Adam has rejected claims made by the MPs running the inquiry into Carillion's collapse that he was a central figure in the firm's failure.
Adam, along with ex-chief executive Richard Howson and chairman Philip Green bore the brunt of the MPs ire in the 100-page report on the inquiry's findings that was released today.
Adam said: "Despite retiring over a year before Carillion went into insolvency, I am deeply saddened by the events that have since overtaken the company.
"The reasons for the collapse are clearly complex, however, I reject the unwarranted conclusions the committees have reached concerning my role at the company.
"I have objected to the committees about quotes that they have misattributed to me. I look forward to contributing to the due process and conclusion of the various investigations that are still ongoing."
The findings labelled Adam as the "dominant personality in Carillion's finance department" who was the "architect of Carillion's aggressive accounting policies [who] resolutely refused to make adequate contributions to the company's pensions schemes".
The report said: "His voluntary departure at the end of 2016 was, for him, perfectly timed. He then sold all his Carillion shares for £776,000 just before the wheels began very publicly coming off and their value plummeted.
"These were the actions of a man who knew exactly where the company was heading once it was no longer propped up by his accounting tricks."
Chairman Philip Green who was labelled an "unquestioning optimist" that "maintained a delusional, upbeat assessment of the company's prospects only days before it began its public decline" has also taken opposition to some of the commission's findings.
Green said: "The board always sought to make decisions on the best available information and with the best professional advice; furthermore we always strived to act in the interests of the company and all its stakeholders.
"Whilst much of the commentary in today's report fails to understand and accurately reflect the true, more complex picture of events, the committee has highlighted lessons which can be learnt by the board, the government and the wider industry.
"As the former chairman, I'm grateful for the on-going hard work of Carillion staff who have been working hard to minimise disruption."