Peter Hansford become professor at UCL's Bartlett school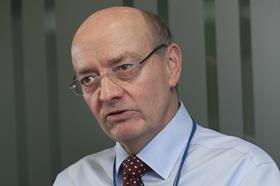 Former chief construction adviser Peter Hansford has become a university professor at University College London's renowned Bartlett school.
Hansford, who stepped down from his government role last November, has become professor of construction and infrastructure policy at the Bartlett.
Hansford played a key role in developing policy for the construction sector over three years as chief construction adviser, including the Construction 2025 strategy.
He joins other big names on the teaching staff at the Bartlett, including former City of London planner Peter Rees.
Hansford said: "I'm excited to be joining the Bartlett at UCL, which is has built a reputation as the most innovative faculty in the UK for the Built Environment. Along with other areas, I'm keen to continue working on thought-leadership for industry business models in construction."