Laing O'Rourke's former Australian boss to lead the construction of £850m Swansea tidal lagoon power project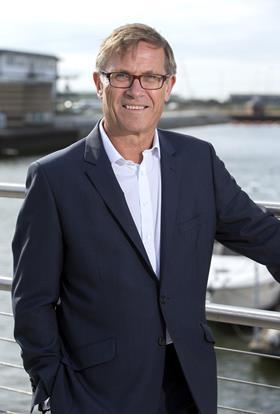 The former boss of Laing O'Rourke's Australian business has been appointed to lead the construction of the £850m Swansea tidal lagoon power project.
Steve Hollingshead, the former chief executive of Laing O'Rourke's Australian division has taken the role of construction director at Tidal Lagoon Power, the company established to build the massive energy project in Wales, which on completion will generate electricity for around 120,000 homes by harnessing the power of the tidal movement of water in Swansea bay.
Hollingshead took up a role of director of human capital at Laing O'Rourke Group in May last year, after being recalled from running the firm's Australian business, where he had been chief executive since 2011.
But as Building first revealed in December, he stood down from that role after just six months.
This week Tidal Lagoon Power confirmed Hollingshead would now lead the construction of the Swansea tidal project, which was submitted for planning permission earlier this year.
The project entails a building 9.5km sea wall in the bay with turbines to capture the sea's power.
Atkins is lead designer on the project and is working with contractor Costain, turbine firm Alstom and technology firms GE, Andritz and Voith.
LDA Design is the masterplanner, with architect Faulkner Browns designing the international watersport & hatchery centre and Juice Architects designing the offshore visitor centre.
The project includes facilities for international sports events, education, arts and a 10km sea reef.
Mark Shorrock, Tidal Lagoon Power chief executive said: "With the public examination process now underway in Swansea, our focus is on developing the team that will lead the construction of Swansea Bay Tidal Lagoon and subsequent lagoons.
"Steve has a fantastic track record both here in the UK and throughout the world. His appointment is a reflection of our commitment to recruiting and retaining the very best people to lead this new industry for the UK."