Designer Tony Kettle joins two former RMJM colleagues in forming Kettle Collective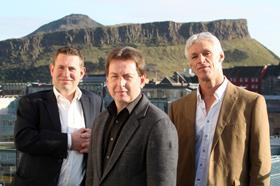 Three of the most senior figures to leave RMJM in recent months have formed a new international design practice.
The firm, Kettle Collective, is named after RMJM's former star designer in Edinburgh, Tony Kettle, who has joined forces with former RMJM colleagues Colin Bone and David Tripney to set up the practice, which will focus on architecture but also work across other areas such as urban, interior and product design.
The company now boasts a head office in Edinburgh, but is also in the process of establishing a studio in Dubai which is intended to work across key markets in the Middle East and Russia.
Both Kettle and Bone have been suing RMJM for unfair dismissal and unpaid wages at Edinburgh Employment Tribunal. A spokeswoman for the Tribunal said this morning that the Bone case has now been closed following a settlement brokered through Acas.
She added that a judge has put the Kettle case on hold until the end of December to give the two parties time to reach a settlement.
Both men quit quit RMJM in April, in Kettle's case after spending more than 20 years at the business.
During this time, the award-winning designer led the design of the iconic Falkirk Wheel in Scotland and Lakhta Tower, the new 456m-high headquarters for the Russian oil giant Gazprom in St Petersburg, the proposed tallest building in Europe.
Tripney boasts 20 years' experience in Dubai and was responsible for the delivery of some of the biggest construction projects in the region including Mall of the Emirates while Bone was previously RMJM's managing principal in Europe.
Kettle, the new firm's design principal, said: "This is a really exciting opportunity to establish a new design house in Scotland with an international focus, building on our team's previous experiences. "Our UK and Middle East teams will work closely together to deliver high quality projects of all scales, which will continue to challenge the norm."
Kettle Collective director Tripney added: "In addition to our design offering, we are able to structure a full delivery service for clients, integrating strategic partners with a dedicated team on the ground.
"We provide a bespoke service tailored to individual client requirements, and there are a number of potential opportunities in the market which will allow the company to grow over the next two to three years."