Practice unpacks work on cutting-edge fabrication and predicts liberation from "standardised components" for architects
Foster & Partners has predicted that the evolution of digitally-controlled fabrication techniques will lead to entire buildings being constructed from bespoke 3D-printed parts in the years to come.
The practice, which has been involved with numerous 3D-printing projects in recent years, said it was currently collaborating on an EU-funded project to explore the potential of metal-based 3D-printing, which could deliver bespoke components quickly and at a fraction of the current cost.
The LASIMM project is working on the development of large-scale all-in-one hybrid machines that would enable the production of components directly from computer-aided design models. LASIMM stands for "large additive subtractive integrated modular machine".
Fosters said the envisaged machine would feature a modular configuration of industrial robot arms to arc weld metals into a component's shape, and a specialised milling robot to machine away surplus material and provide the product's final finish.
"This process would enable the building industry to move away from standardised components and towards bespoke solutions for every building," the practice said.
"It would also mean that these components could be produced within a reduced timeframe at a fraction of the cost."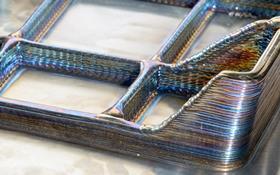 The practice, which bought its first 3D printer in 2004, said rapid prototyping was now playing an increasingly pivotal role in the design process.
"This process now also offers myriad possibilities in the construction of prefabricated building components, enabling entire buildings to be 3D printed in the future," it said.
The LASIMM project is being funded through the EU Horizon 2020 research and innovation programme and is currently in the first year of an anticipated three-year run.
Fosters is collaborating with nine partners, including the European Welding Federation and BAE Systems. Its main role is providing end-user feedback from the construction sector.
Fosters has also been involved with Loughborough University and Skanska in bringing large-scale 3D concrete printing technology to market.