Upgrade will provide a new walk-through home and education space for visitors 
Foster + Partners has received planning approval from Westminster Council for the redevelopment of the Snowdon Aviary at London Zoo.
The grade II* listed structure was designed by Cedric Price with Frank Newby and Lord Snowdon in 1962. It was the first aviary in Britain to offer visitors a 'walk-through' experience, aimed at bringing them closer to birds in their natural habitat.
The practice, which this week reveled that pre-tax profits in the year to April 2017 had slipped 10% to £25m, will now modernise and upgrade the aviary to provide a new walk-through home for the tourist attraction's troop of colobus monkeys and parrots.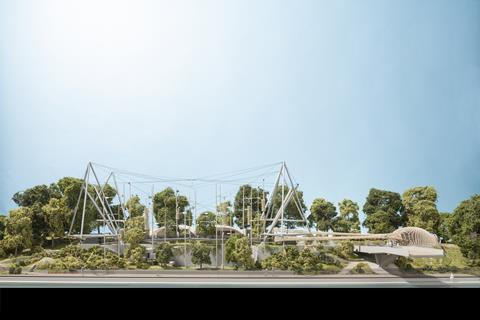 The proposal also features an indoor space to host up to 30 visitors to educate school groups on the monkeys, their habitat and conservation, zoo owner ZSL's history and about the architectural legacy of the zoo.
Norman Foster said: "The rebirth of the Snowdon Aviary continues our work with historical structures. It is about the fusion of the old and new, but also about repurposing this extraordinary structure."
Last year, the aviary was put on Historic England's at-risk register which draws attention to structures in danger of being lost as a result of neglect, decay or inappropriate development.