Firm pips four others in RIBA organised competition
Foster & Partners has beaten four others to land a £77m infrastructure project backed by George Osborne in his last budget as chancellor.
The Orwell Crossings Project will ease traffic congestion in Ipswich by providing a major new bridge over the River Orwell, connecting the waterfront to the town centre, improving journey times and acting as a catalyst for further regeneration.
In all, there will be three bridges built under the scheme – the main bridge for cars, cyclists and pedestrians, a smaller second bridge for the same group of users and a pedestrian only bridge.
Foster's will join an existing project team led by WSP which is responsible for structural and civil engineering. Work is scheduled to start on site by 2020.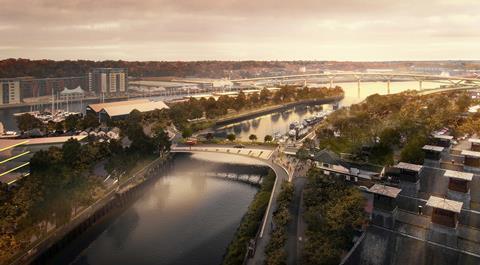 Foster's beat Wilkinson Eyre, Knight Architects, a team featuring Canadian practice Adamson Associates, the executive architect on the Shard, and William Matthews – the man who helped design the tower while at Renzo Piano – and a lone bid by French practice Marc Mimram which is based in Paris.
All five, who receive an honorarium of £10,000, present their proposals to a judging panel chaired by Michael Hopkins at the end of last year.
Hopkins said: "Apart from the economical elegance of Foster & Partners' engineering solution, we particularly admired the integration of the pedestrian routes with the principal vehicle crossing which, taken together, will naturally encourage further development of the island."
The RIBA competition was organised for Suffolk County Council.
The aim is also to unlock the development potential of the man-made peninsular island which separates the Wet Dock from the New-Cut, joining the island to the Orwell's west bank.
Local MP Ben Gummer said: "It is difficult to overstate the importance both of what the bridge will do and also what it represents.
"We were all agreed that the proposals put forward by Foster & Partners were exceptional and the design concepts had an elegant simplicity. The proposals also demonstrated an excellent understanding of the economic rationale for the new crossings."