Proposal to open crossing next summer for cyclists and pedestrians
Foster & Partners' plans for mending Hammersmith Bridge could slash £40m from the bill and mean it reopens four years earlier than the current plan, the council in charge of repairing it has said.
The grade II* structure could potentially reopen for pedestrians and cyclists next summer and cars and vans two months later, under the plans that have been presented to Hammersmith & Fulham Council.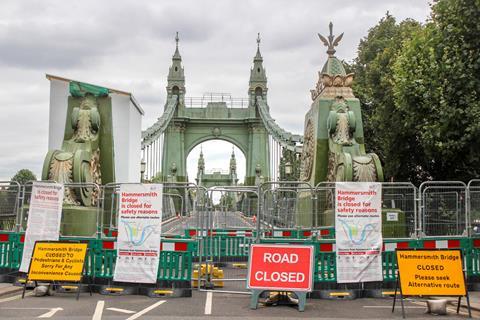 A six-week long technical study conducted jointly by Fosters and bridge engineer Cowi found that a temporary double-decker crossing is feasible using the existing bridge foundations.
The proposal has been initially costed at around £100m.
The double-decker scheme would involve launching a truss structure above the existing road deck with a lower level for pedestrians and cyclists and an upper level for cars and buses.
Elements of the bridge that need repair, including the decking, would be lifted away using the temporary bridge as a works platform and transported by barges to an offsite facility for safe repair and restoration.
Historic England, which has already been involved in discussions about the plan, will need to approve the works which enable the bridge to be restored to its original Victorian splendour with fewer constraints.
The full restoration could be completed in 2023.
Council leader Stephen Cowan and the design team will discuss the findings of the feasibility study at this week's meeting of the government's Hammersmith Bridge taskforce.
The council has also submitted an outline financial plan to the transport secretary Grant Shapps for the bridge restoration work to be funded through a toll or road charging scheme and is currently awaiting the government's response.
Last November, Shapps asked the council to pay at least £64m or 50% of the cost of the stabilisation and strengthening works required to reopen the bridge.
Motorists could be charged an average of £3 to drive across the 134-year-old bridge, the ownership of which could be transferred to a charitable trust.
The bridge was closed to pedestrians and cyclists on public safety grounds last August after cracks in the cast iron pedestals widened during a heatwave.