Exclusive: Four contractors are in the running to build the UK's biggest prison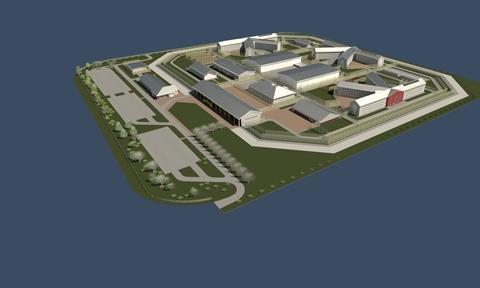 Carillion is competing against three other contractors to build Britain's biggest prison, Building can reveal.
The firm - which is up against Interserve, Lend Lease and Kier to building the £250m 'super prison' in Wrexham in north Wales for the Ministry of Justice (MoJ) – is a surprise choice on the shortlist given it did not win a place on the Moj's £1bn framework, which was established in 2012.
However, Building understands Carillion is on a reserve list under the six-year framework.
As well as being the country's largest jail if built, the 2,100 place prison, which is designed by Aedas, is also the largest-ever BIM project in the public sector.
The scheme - which won outline planning permission from Wrexham council last week - also involves technical assessor White Young Green and is proposed on 44ha of land formerly occupied by the town's Firestone factory, a site owned by the Welsh Government.
The plans include three four-storey house blocks, up to 18m in height, with a compound surrounded by a fence that would be 160m from the nearest homes.
It is controversial because of the nearby housing and also because of the presence on the site of wildlife such as Great Crested newts and Grizzled Skipper butterflies, something which has prompted the inclusion of an ecology park within the plans.
Critics have also likened the Wrexham super-prison to the current largest jail in the UK – the 1,600-place Oakwood prison, which is run by private firm G4S.
Oakwood, near Wolverhampton, experienced disorder among inmates earlier this month and was previously criticised for design faults.
The four contractors bidding for Wrexham prison are expected to meet local SME firms at a networking event involving 300 businesses in the town this week.
The project is due to start on site this year and be completed in 2017.