Nuclear project attracts just two bids, while Cumbria council defers crucial decision over nuclear waste storage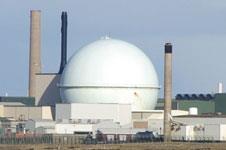 French energy firm Areva and its Chinese partner have pulled out of the race to buy nuclear power plant developer Horizon, the Financial Times reports.
The lack of a Sino-French bid means there are only two bidders. A decision on the winning bidder could be taken as early as November.
Horizon's parent companies, German energy firms RWE Npower and E.ON, put Horizon up for sale in March stating that their financial ability to invest had been hit by the suspension of the use of nuclear power in Germany in the wake of the Fukushima disaster.
It had been widely anticipate that Areva and China Guangdong Nuclear Power Corporation were expected to submit a bid last Friday - the deadline for submissions.
But only Japanese technology firm Hitachi and a consortium led by Toshiba Westinghouse. The paper also report that China's State Nuclear Power Technology Corporation, which had been slated to join with Westinghouse, has not yet formally entered into an agreement with the firm but is still in talks.
Both bidders are expected to take on further partners if they win the project.
An industry source close to the deal said both bidders were "enthusiastic" and would likely look to appoint construction firms to work on the project as soon as they took over, estimating the sale had put the timescale for the project back three months.
They said the lack of a third bidder could actually help the sale process. "The problem with having third bidder is that usually it's really different from the other two and it's hard to compare them," they said.
In a further set-back for the government plans Cumbria Council announced yesterdays that it will defer a decision on whether to host a long term nuclear waste facility until January.
The council is the only local authority which has volunteered to consider hosting a long term nuclear waste storage facility.
In January the energy secretary Ed Davey is set to take a decision on whether to give planning permission to the first of the UK's new nuclear power plants - EDF Energy's Hinkley Point C project. But the lack of a decision on what will happen with nuclear waste being in place at the same time could leave any authorisation of the development open to legal challenge.
Cumbria council is unhappy that its right to withdraw from the process of developing the facility is not clearly defined and there is no clear package of community benefits which would be tied to building the nuclear waste repository.
Eddie Martin, leader of Cumbria Council, said: "The government has always made it clear that if necessary, the process can be 'paused' while we seek clarification on unresolved issues. We're at that stage now and the next three months will involve all three councils working closely with the government to get to a position where a decision can be made."