Nuclear reactor developer outlines plan for NuGen nuclear project's procurement and construction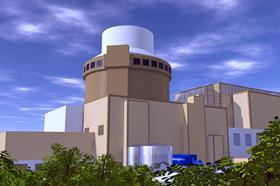 The boss of nuclear reactor firm Westinghouse has said it will only take four years to build each of its three reactors in Cumbria.
Last week, the firm's parent company Toshiba took a 60% stake in nuclear development project NuGen in Cumbria and Westinghouse was installed as reactor supplier and took charge of the construction process.
On Friday (17 January), Danny Roderick, president and chief executive of Westinghouse, said the firm would take just four years to build its first reactor, after it takes a final investment decision in 2018, and have it up and running by 2024 following a further two years of commissioning.
The construction phase is much shorter than rival nuclear developer EDF, which believes it will take nine years to build and commission each of its reactors at Hinkley Point in Somerset.
Roderick said the speed of construction was partly related to the modular construction design of Westinghouse's reactor, the AP1000.
However, he said the construction phase for all three reactors at the site could be slowed if the UK construction market's capacity is too stretched with NuGen, EDF and nuclear developer Horizon all building plants at the same time.
"If there is other construction going on we have to think about the aggregate level of resources in the UK, because this will primarily be built by UK companies," he said.
He said he expected the construction of second reactor between 18 and 24 months after the first one and the third after the same amount of time again.
He acknowledged the ongoing Sellafield decommissioning project, also in West Cumbria, could squeeze the human resources in the region and increase prices.
"We don't want to find ourselves in bidding wars for labour between [Sellafield] and our project. We have a few years to work on this issue and do training," he said.
"Part of it will also be to see how aggressive and how far along Hinkley is and how many people are tied up there," he added.
Roderick estimated that 60% of the project's construction supply chain would be UK firms.
But he said none of the "major" construction contracts would be let until after the final investment decision.
Before starting construction Westinghouse and NuGen will have to resolve 51 issues with the reactor design still outstanding under the government's Generic Design Approval process – a regulatory requirement.
Roderick said no final investment decision would be made until GDA approval have been given; planning permission was in place; and a guaranteed "strike price" for the plant's electricity had been agreed with the government.
He said the strike price NuGen required would likely be less than EDF's £92.50/Mwh. "Our modular construction allows us to build in a shorter amount of time. Our job is to be competitive," he said.
But he added: "We haven't even been on the site yet. We really have to go and characterise the site and then we can talk about price. That's going to be a little bit later in the discussion."