Joseph Rowntree Foundation says the gap between intended and achieved standards needs bridging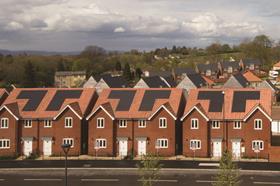 Building Regulations should be amended to incorporate "as built" sustainability standards, to bridge the gap between housing designs and final performance, according to a new report.
The Joseph Rowntree Foundation (JRF) has released a study identifying a continuing "substantial difference" between design intent and the actual sustainability of new homes.
It said such gaps develop due to design detailing, differences between factory and on-site performance of materials and working practices such as the cold bridging of cavities.
The report said: "There is little point in increasing the regulatory design standard and not achieving the intended performance level."
One architect interviewed by the JRF said that, despite some improvement in skills and awareness among building firms, effort is being put into "demonstrating compliance through shortcuts and workarounds rather than meaningfully embedding it [sustainability on site] or embedding it within design".
Creating a method of assessing "as built" sustainability performance would not be simple, the report admitted, and could add costs at the product specification, design and on site stages of development.
However, a number of housing associations and private sector companies supported the move, it said.
Katharine Knox, policy and research manager at JRF, said: "At the moment it is difficult to achieve a simple test for checking compliance.
"What happens at the moment is quite costly - you can only do it when the house is vacant and in the right weather conditions. There is a need to develop a more effective low-cost test."
Dr Neil Cutland, director at Cutland Consulting, welcomed the JRF's call, but said that the government had already ignored the recommendation of the Zero Carbon Hub for built performance assessment.
In 2011, it recommended emissions ratings in revised building regulations. Cutland said: "In the end, the numbers we agreed [had] not only been watered down, but drawn back to apply to design-stage performance calculations."
Andrew Stunell MP, Liberal Democrat former building regulations minister, told Building: "The industry doesn't like high standards and certainly those that can be checked against performance. I was up for doing it but we would have had to put off any improvements at all for 10 years if we had decided to fight the resistance."
He said that any extra costs to the industry arising from meeting sustainability standards would be far outweighed by ballooning sales prices.
In addition, the report said that modern methods of construction were the most effective method of improving sustainability and should be encouraged through the tax system.