Firm's regeneration arm anticipates resurgence after a downturn over the second half of 2015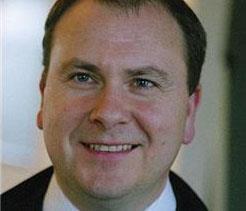 Galliford Try is planning to capitalise on an expected comeback in the affordable housing sector, the firm's chief operating officer Ken Gillespie has said.
The company's regeneration arm Galliford Try Partnerships, which delivers affordable housing schemes, experienced a downturn in volume over the second half of 2015 after housing associations paused a number of schemes following the government's imposition of an annual 1% reduction in social rents last summer.
But speaking to Building, Gillespie (pictured) said the firm expected a resurgence in demand over the coming months: "It's the sector that excites us most as there is huge and increasing demand for affordable homes.
"We expect registered providers to dust themselves down and move on. The model might be slightly different and we may see more mixed-tenure schemes, but we expect to see the volume."
His comments came after the firm posted record results for the half-year to December 2015 with the company also announcing Gillespie will retire next February.
The firm posted increased profit across its housing, regeneration and construction businesses. Overall, pre-tax profit increased 24% to £52.9m, up from £42.5m, while revenue increased 12% to£1.3bn, up from £1.1bn.
Gillespie will step down from the firm's board in July.
Former Skanska director Bill Hocking, who joined Galliford Try last September, will become chief executive of construction and investments from August.
Commenting on his decision to retire, Gillespie, who joined the business in 2006 when Galliford Try bought Morrison Construction where he was managing director, said: "I will leave the business in a strong position and, having appointed Bill Hocking, I know the business is in excellent hands to continue its success."
Galliford Try's construction business margin increased to 1.2% from 1%. The firm said its construction business was on course to hit £1.5bn full-year revenue ahead of its 2018 target, while its aim remains to hit a 2% margin by that date.
Gillespie said he "didn't have too many concerns" about risks from tender cost inflation and schemes being put on hold, citing the fact that 90% of the firm's construction revenue is for public andregulated clients with whom it typically has long-term relationships or frameworks.
He added: "I think the construction market is strong – there is more market than there are contractors."