Contractor facing a legal claim for leaks in the deck of the £80m Broadway Plaza shopping centre in Birmingham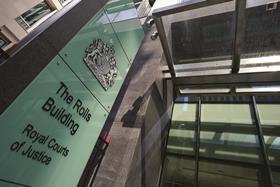 Contractor Galliford Try is facing a legal claim for £18.4m for leaks in the deck of the £80m Broadway Plaza shopping and leisure centre in Birmingham.
The central Birmingham development - which includes a 20 screen cinema, restaurants, shops and 80 homes - was completed by Morrison Construction in 2003.
Morrison was acquired by Galliford Try in 2007.
The current building owner CIP Property is now suing Galliford Try for £18.4m due to what it claims are "defects" in the construction of the development.
In papers filed at the Technology and Construction Court, seen by Building, CIP argued that Morrison had "failed to exercise any … reasonable skill and care" in constructing the building, which now "suffers from ingress of water" from the external pedestrian deck area.
It said: "The Plaza Deck is defectively designed and constructed and allows water to enter the void between the Plaza Deck surface paving and the sub surface steel deck and in turn water permeates the steel deck into the car park levels below affecting the structural steel work, fire proofing, and extensive mechanical and electrical installation."
It added that the problem had led to "extensive corrosion of structural steel work" as well as "very significant deterioration" of the fire protection paint on the steelwork.
It argued that the Plaza Deck "must be removed and a new construction put in place which is water tight and prevents water entering the development".
It said £18.4m was needed to rectify the damages, including £651,697 that it has already spent on rectifying works.
It also said it would seek to recover any claims from the tenants occupying the building for any disturbance they might suffer from rectification work.
A spokesman for Galliford Try said it would be "defending this action vigorously".
He added: "Any further comment would be inappropriate while legal proceedings are ongoing."
CIP Property declined to comment.