Firm in 'constructive dialogue' with client over 'significant' claims on scheme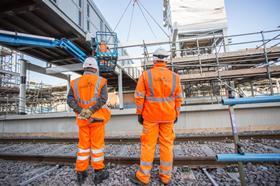 Galliford Try said it expects to recover some money on the scheme to build a new bypass around Aberdeen once it has wrapped up negotiations with client Transport Scotland.
The firm booked a £26m loss on the 58km long road in its half year results, up from the £20m it had earmarked in a trading update last November, and said the construction of the road, which it is carrying out with remaining joint venture partner, Balfour Beatty, is finished.
The job has already cost Galliford Try close to £150m and last year prompted a rights issue to raise more than £150m.
But the scheme has still not been fully handed over and earlier this month Michael Matheson, Scottish transport secretary, laid into the pair for missing the latest deadline after promising it would be handed over by Christmas last year.
He said: "I am seeking yet another urgent meeting with [them] to leave them in no doubt as to how resolute our defence of the public purse will be.
"We are not prepared to pick up the tab for mistakes made by construction companies."
In its interim results this morning, Galliford Try said: "Constructive dialogue with the client on the significant claims in respect of the contract are continuing. Our provisioning for the loss on this project reflects our current estimate of the final costs, and is reduced by an estimate of our share of significant claims against the client and others, which are yet to be agreed and concluded."
The road, known as the Aberdeen Western Peripheral Route (AWPR), is more than a year late with Galliford and Balfour saying the job has been held up by flooding and other weather-related issues as well as having to tackle hundreds of utility diversions which they say should have been the responsibility of other utility contractors.
Revenue at Galliford Try's largest division, construction, fell more than £100m to £718m in the six months to December 2018 as the firm said it was taking a more cautious approach to bidding while a number of jobs had been put on hold.
The Aberdeen road helped increase losses at the arm to £19.7m with the firm reporting pre-exceptional margins at construction stayed flat at 0.9%. Chief executive Peter Truscott said: "Construction's performance continues to be encouraging, particularly on newer contracts."
But Cenkos analyst Kevin Cammack said: "Construction was a little disappointing ignoring the AWPR. Underlying margins were just 0.9% – so what happened to all the work bid and won at restored margins of 2%?"
Its Linden Homes arm saw profit fall 5% to £77m during the period on revenue down 10% to £392m. The firm said operating margins went up to 19.6% from 18.5%.
But it warned this division was most at risk of a no-deal Brexit when the UK leaves the EU next month.
"We consider that a controlled departure under the terms of a withdrawal agreement between the UK and the EU will have no significant direct impact, with supply chains and EU and other overseas labour able to adjust over time as detailed future arrangements become clear," it said. "If the UK leaves without a deal, the biggest impact we foresee is the effect on our markets, and on Linden Homes market in particular, of a potential severe decline in consumer confidence and economic activity in general."
Its regeneration business, called Galliford Try Partnerships, saw profit up a third to £14.5m on turnover up 27% to £285m.
Group revenue at Galliford Try, which was also hit by a £4m pension charge, slipped 5% to £1.4bn with pre-exceptional profit up 4% to £84m. But exceptionals dragged pre-tax profit down 4% to £53.8m.