Airport to put proposals for expansion to government's airports capacity commission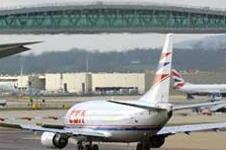 Gatwick Airport is drawing-up detailed plans for a second runway to increase its capacity.
Gatwick Airport will look at the environmental impacts; issues of surface access and economic impacts to draw-up potential options for a second runway.
The options will be submitted to the Independent Commission on Aviation Connectivity, chaired by Sir Howard Davies, early next year.
Stewart Wingate, chief executive of Gatwick Airport, said: "I believe a new runway at Gatwick could be affordable, practical and give passengers a greater choice of routes to key markets.
"A new runway will allow Gatwick to compete and grow, increasing the choice available to passengers today. We have the space, capability and access to financial resources."
However, Gatwick Airport has an agreement with West Sussex County Council, signed in 1979, that it will not build a new runway until 2019.
Baroness Jo Valentine, chief executive of London First, said: "Anything that could increase runway capacity at London's airports is good news for passengers and for the UK economy.
"If the UK is going to remain a competitive economy, we need more flights to growing and emerging markets. This announcement from London Gatwick broadens the debate on how we can achieve that and offers the potential for further competition and greater choice for passengers.
"If the Government needs any signal that the private sector is willing and able to invest in building the infrastructure Britain needs - this is it. It is ready to invest, create jobs now and support economic growth in the medium and long term."