£15m scheme by Wright & Wright sweats on decision next spring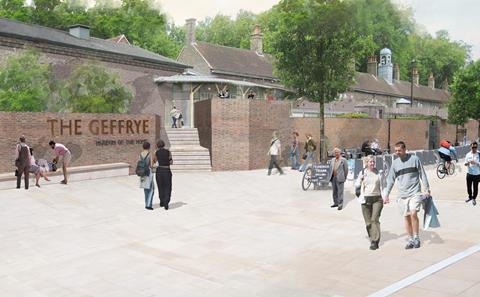 An application for crucial funding for Wright & Wright's £15 million proposals for the Geffrye Museum in east London will be made to the Heritage Lottery Fund (HLF) next month.
The HLF gave initial support for a £10.9 million bid in 2011, including £518,500 of development funding but this was lost after the original proposal by David Chipperfield Architects to extend the grade I listed building in Hackney was rejected by local planners last year.
A fresh application is being made and Wright & Wright co-founder Clare Wright said: "The scheme needs support to take it forward."
The HLF is due to make a decision on round one of funding next April and if successful, the Geffrye could lodge its plans next summer. An application for round two funding would then be made which would see the bulk of money awarded.
Wright said it had been consulting a host of interested groups including the council, English Heritage and the Spitalfields Historic Buildings Trust which had objected to Chipperfield's plans.
She added that it had also used work carried out during the Chipperfield planning application. "This application has benefitted greatly from the research, brief development and surveys previously carried out by that team."
New images of Wright & Wright's plans have been released and the scheme proposes changes to the interiors of the museum's buildings while reordering and opening up the existing spaces.
The lower ground floor will be opened up to create a gallery with direct access to the Geffrye's period gardens, while the first floor will be reinstated over the almshouses' period rooms to provide space for a library.
The proposals also include two new pavilions – one at the entrance and another in the garden. A glass and timber garden pavilion will be used as an events and education space, and a brick entrance pavilion will give direct access to Hoxton station opposite.
Wright & Wright beat Alison Brooks Architects, Haworth Tompkins, Pringle Richards Sharratt Architects and van Heyningen & Haward Architects. The redeveloped museum could open in 2020.
This story first appeared on Building Design