Gleeds is to expand its presence in Eastern Europe as it looks to take advantage of the increasing number of blue-chip companies moving into the region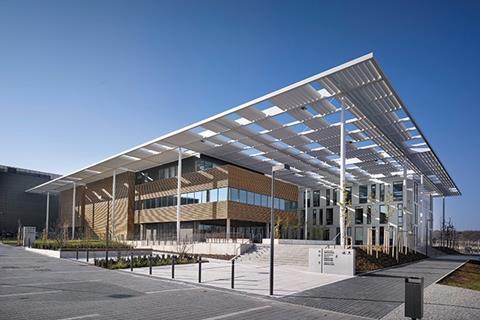 ELI Beamlines laser centre in the Czech Republic
The consultant is set to open a new office in the Polish port city of Gdansk and is eyeing up opening another in Belarus to target markets in the Baltic states.
Gleeds currently has 11 wholly-owned offices in six countries in central and Eastern Europe, contributing £20m per year – 15% of the group's turnover. This figure is projected to increase by £4m next year to £24m.
"With a significant increase in major blue-chip corporations expanding their operations to take advantage of the economic environment in the area, Gleeds expects to see those numbers continue on their upward trajectory, anticipating 20% growth year-on-year," said Gleeds chairman Richard Steer.
Recent projects the firm's central and Eastern European offices have worked on include the construction of the ELI Beamlines laser centre in the Czech Republic, which will accommodate the world's most powerful laser to enable research in the fields of physics, material science and astrophysics; and Panorma City, a €63m (£54.5m) residential scheme in Slovakia's capital Bratislava, comprising two 33 storey towers to house 606 apartments.
South-east of the Czech Republic's capital Prague, Gleeds is also working on the redevelopment of a 19th-century chateau into a boutique hotel with a PGA Standard national golf course, and villas and apartments designed by architects including Richard Meier & Partners, Duggan Morris and John Pawson.
The Czech Republic economy is booming, everyone is busy … it is difficult to get site workers and designers

Tomas Homola, Gleeds
In Prague, the firm has also worked on fit-outs for tech giant Microsoft, the $750m-turnover anti-virus software firm Avast, Swiss-owned pharmaceutical company Novartis and a €2m-plus refurb of the Four Seasons hotel, incorporating a new spa.
Tomas Homola, country director for Gleeds in the Czech Republic, said: "I think the [Czech Republic] economy is quite booming, everybody is busy. My feeling is that we are in a similar situation as we were before the recession and it is quite difficult to get workers on site, and to get designers."
However, he added that he expects a cooling off of the construction industry in two years' time as it is starting to get overheated.
Robert Velíšek, country head of real estate and facility services Czech Republic at Novartis, said that the pharma company chose to base one of its five support centres in Prague because of "the central Europe location, the timezone as the company is supporting countries in similar timezones, the good level of education of the population and the attractiveness for foreigners to move to Prague".
He added that the firm is looking to expand its operations further in the capital city and will be taking more floors in its current building to accommodate some of this growth.