Tech giant backs return to office working with plan to increase capacity for expanding UK staff
Google has bought the 11-storey Central Saint Giles development in central London which contains some of its UK offices for £730m ($1bn).
The tech giant, which already rents around 40% of the Renzo Piano-designed building near Oxford Street, has agreed a deal to buy the development from Legal & General Group and Mitsubishi Estate.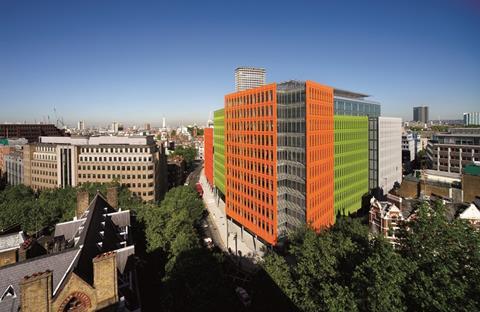 The £130bn-turnover company said the investment reflects its "continued confidence in the office as a place for in-person collaboration and connection".
Google has also pledged a "multi-million pound refurbishment" of the Central St Giles offices. This will include team pods, flexible new spaces that can be reconfigured in multiple ways and outdoor covered working areas.
>> See also: How are construction employers preparing for a return to the office?
>> Omicron blamed for weakest value of small project starts in over a decade
A new UK headquarters building for Google is currently under construction at Kings Cross. The 11-storey block, designed by Heatherwick Studio and Bjarke Ingels Group (BIG), will provide one million ft2 of office space, of which around two-thirds will be taken by Google.
The investment is part of a wider strategy to boost Google's UK workforce capacity to 10,000 employees. The firm currently has 6,400 staff in the UK.
The chancellor of the exchequer Rishi Sunak has described the investment as a "big vote of confidence in the UK as a world-leading tech hub".
Business groups have warned that a return to the office is vital for economic recovery, especially in town and city centres.
Current government guidance is for people to work from home if they can, but this will be reviewed on 26 January.