Internet giant tells architect AHMM to go back to the drawing board to design a "better" building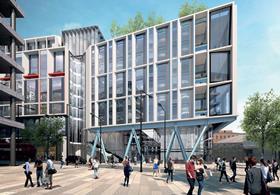 AHMM's designs for Google's £300m headquarters in London's Kings Cross have been scrapped and the project will be redesigned by the architect, it has emerged today.
The firm said it had taken the decision in the light of its changing requirements at the site.
Joe Borrett, head of real estate and construction at Google, said: "We have a great plan for the new building at Kings Cross, but we want to challenge ourselves to do something even better for Google, Kings Cross and for the local community."
The project, which will be built by Bam Construct, was awarded planning permission by Camden council in September.
According to Property Week, the redesign has pushed back the completion of the project to 2017 from 2016.
AHMM won the competition to design the scheme last year. Speaking to Building in February, Peter Morris, managing director of AHMM, said working for Google was " intellectually challenging".
He said: "Some clients you find will just take your professional advice and move on as you develop the scheme […] They are challenging us at every turn, but likewise we are turning it back and challenging them."
Gardiner & Theobald is acting as cost consultants on the project.