Sadiq Khan recently found no grounds to stop development
Plans to knock down a 1930s Marks & Spencer store on Oxford Street have been put on ice after an intervention by Michael Gove.
The communities secretary last week issued Westminster Council an Article 31 holding direction, preventing the local authority from finalising planning permission for the project.
Gove's Department for Levelling Up, Housing and Communities will now examine the case for calling in the Pilbrow & Partners-designed scheme, which has been criticised on the grounds of carbon emissions.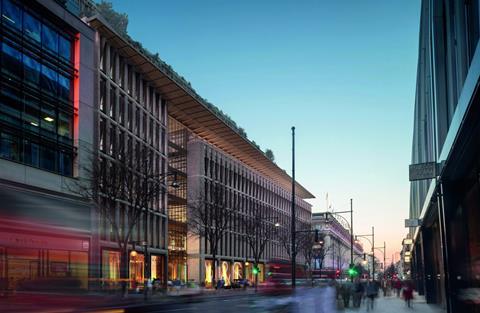 Last week, London Mayor Sadiq Khan announced he was sticking with his initial decision to let the development proceed, having agreed to revisit the issue when it emerged the Greater London Authority had failed to consider a scathing report from its own climate adviser.
Westminster City Council last November approved the plans, which would see the Edwardian store replaced with a 10-storey office-led development with nearly double the internal floorspace of the existing building.
A report by Simon Sturgis, the GLA's carbon advisor, claimed nearly 40,000 tonnes of CO2 would be emitted during construction, on top of the 53,000 tonnes of embodied carbon over the building's 60-year lifespan.
A spokesperson for the Mayor of London said a "thorough assessment" of the scheme, including its carbon footprint, did not yield any grounds for intervention.
When it was considered in March, the authority assessed that the carbon saved by refurbishment would be countered by its poor energy efficiency.
An M&S spokesperson said: "The plans we have submitted to build a new, vibrant M&S store fit for modern retail and sustainable office space has been approved at every stage and strongly supported by the local community as a key part of the regeneration of an iconic part of London.
"As well as attracting new investment and footfall, a detailed assessment on the carbon impact across the whole lifecycle of the building was undertaken by independent experts who concluded that the new build offered significant sustainability advantages over a refurbishment."
If the scheme goes ahead, M&S, which has occupied the entirety of Orchard House since 1967, would retain retail space on the ground, first and lower ground floors of the new building.