Plans as first proposed by think tank Policy Exchange involve selling off 30 prisons to fund 12 larger 'hub prisons'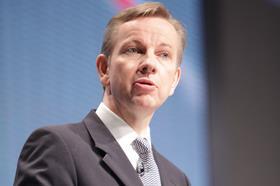 Plans by justice secretary Michael Gove to replace ageing Victorian prisons with modern "hub" facilities could spark a £4bn prisons programme, Building understands.
Last week Gove (pictured) said he was considering radically overhauling the prisons estate, in his first speech as justice secretary on the future of the criminal justice system.
Gove said: "I think we have to consider closing down the ageing and ineffective Victorian prisons in our major cities, reducing the crowding and ending the inefficiencies which blight the lives of everyone in them and building new prisons which embody higher standards in every way they operate.
"The money which could be raised from selling off inner city sites for development would be significant."
Building understands Gove's department is drawing on proposals first made by the right-leaning think tank, Policy Exchange, in 2013 to sell-off inner-city prisons to fund a radical redevelopment push.
The Policy Exchange report in question, called Future Prisons, proposed selling off more than 30 dilapidated prisons and using the proceeds to fund construction of 12 larger "hub prisons".
Policy Exchange's report, Future Prisons: A radical plan to reform the prison estate, was written by former prison governor and Ministry of Justice official Kevin Lockyer.
In it, Lockyer mooted the closure of prisons such as HMP Pentonville, HMP Holloway and HMP Wormwood Scrubs, with these brownfield sites used for the construction of modern facilities which could house up to 3,000 inmates. These new super prisons would each cost between £270m and £320m, creating a £3.75bn building programme.
The sale of the old prisons could fund the construction of at least 10 super prisons, a funding option outlined in the Policy Exchange report.
A spokesperson for Policy Exchange welcomed Gove's speech and said his prison estates proposal did "seemingly" look like it had originated from the organisation's report.
Chris Liddle, chairman at HLM Architects and business member of Policy Exchange, called Gove's announcement a "positive move", adding that aging prison facilities, particularly in London, are difficult to manage. Liddle said his practice was "tracking this initiative".
David Nisbett, a partner at design and construction consultancy Pick Everard, who have worked on a number of prison projects, including the new HMP Oakwood prison near Wolverhampton, says "maintaining and updating current prisons more often than not is not worth the large, ongoing costs which need to be invested," adding that "rebuilding the prisons is a much more efficient option".