Government promises to provide funding to complete Midland Metropolitan Hospital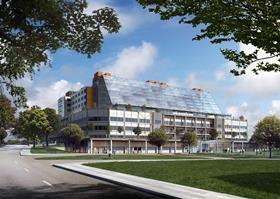 The government has agreed to provide funding to complete Carillion's stalled Midland Metropolitan Hospital job eight months after the contractor's collapse.
Earlier this month, the board of the Sandwell and West Birmingham NHS Trust, reversed prior decisions to advance the job under a private finance model, and opted for a direct contract with a building contractor to finish the new hospital, with funds to be provided from central government.
This proposal, which was submitted to both the Department of Health and Social Care and the Treasury on 2 August, has now been accepted by government.
Health minister Steve Barclay has now confirmed the government will financially support the completion of the project, saying: "Our long term plan will see the NHS receive £20.5bn a year more than it currently does by 2023, but our commitment does not stop there, as this important partnership shows.
"By taking this bold step, we are not only giving patients in Sandwell and west Birmingham world-class NHS facilities on their doorstep but also showing our determination to build an NHS fit for the future – all whilst making sure taxpayers' money is spent in the best possible way".
Commenting on the announcement that the government would foot the bill to finish the job, trust chief executive Toby Lewis said: "We will continue to engage with the construction market over coming weeks and build towards a formal procurement by November this year. We always said Midland Met would be delivered and the doubters were wrong. The prime minister's promise is being honoured.
"Midland Met will open in 2022. This is a vote of confidence in our publicly financed construction plan, and in our STP [segmentation, targeting and positioning] strategy as a whole. We need to finish the job and seize the benefits."
Neither government nor the NHS trust confirmed how much public funding would be provided to complete the project that Carillion originally won under a £350m PFI contract in 2015. The firm had been paid £205m of this when it went bust in January.
An unnamed major contractor quoted between £319m and £424m to finish the job, according to a financial assessment by Deloitte on behalf of the trust.
The contractor's £319m price tag for the job is based on the job being completed under a straight construction contract.
If the job was to be let under a new PF2 deal the contractor said this cost would rise to £424m.
In early August, the trust launched a competition to win an enabling works contract to prevent the deterioration of the construction site. That contract is to be awarded in September.