The NHS Trust behind Liverpool project could cancel PFI deal at the end of the month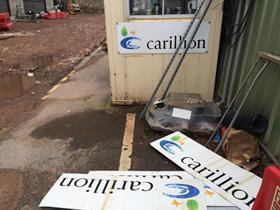 The NHS trust behind the stalled Royal Liverpool Hospital will have the option of declaring the project in default from the end of September, according to the Department of Health and Social Care.
The 646-bed hospital was originally scheduled for handover in March 2017 but was still a year away from completion when its contractor Carillion collapsed in January.
The last day in September marks the longstop date set in the PFI contract Carillion signed with Royal Liverpool and Broadgreen University Hospitals NHS Trust in 2013.
According to the minister of state for health and social care, Stephen Barclay, "Once this date has passed the Trust has the option of declaring that the project is in default, which would be followed by the contract being terminated."
Barclay, who was answering a written question from Liverpool Walton MP Dan Carden, also revealed concerns about the work carried out to date.
He said: "Significant concerns have been identified with work carried out by Carillion, and the investigation of this has resulted in delays."
Barclay said that the government's priority was to ensure construction of the hospital resumed as quickly as possible and that it would support the trust whether or not it decided to terminate the contract.
He added: "The timetable for opening the hospital will be an important factor in deciding on the best route forward and we are working towards achieving a decision on this by the end of September."
In an update in August the trust said it had been undertaking a detailed structural review of the construction work Carillion had undertaken, after concern about problems with concrete beams in the building.
Arup has been carrying out the structural review.