Firms asked to help government departments caught up in contractor's collapse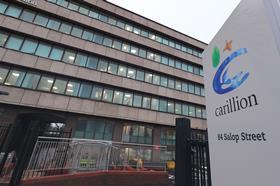 Consultants have been asked to spare staff for stretched government departments struggling to cope following Carillion's collapse last week.
Building understands a number of firms have been asked to help out departments caught up in the £5bn contractor's implosion.
Carillion was halfway through a five-year, £200m deal to look after 50 prisons for the Ministry of Justice in southern England and London when it went under.
One source said the Ministry of Justice "needed support in terms of working through what the implications of the collapse were, such as whether the subcontractors were still in place or if the department has to self-deliver some of these projects".
The Cabinet Office, which is co-ordinating the government's response on Carillion, directed calls to liquidator PwC.
The news comes as publication of the construction sector deal being offered under the government's Industrial Strategy plan, and worth £250m to the industry, is being pushed back because the department in charge of it is too busy dealing with Carillion's collapse.
The Department for Business, Energy and Industrial Strategy has been so overwhelmed dealing with Carillion that details of the deal have been shunted back a number of weeks.
Simon Rawlinson, partner and head of strategic research and insight at Arcadis, said Carillion "has affected the timing of the publication of the deal".
A business department spokesperson said: "The exact content of the deal is still being finalised."