Firms begin targeting UK workers to plug skills gaps ahead of EU withdrawal next March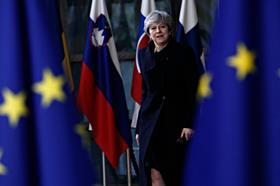 The construction industry has been left in the dark about how best to prepare for Brexit, according to housebuilding bosses.
Don O'Sullivan, chief executive of £392m turnover firm Galliard Homes, said companies were not receiving guidance from the government on how best to prepare for leaving the EU next March.
O'Sullivan said: "Brexit has triggered huge uncertainty in the economy and what's worse is that no one in government is advising us.
"Brexit will trigger an employee shortage in the construction sector as European workers won¹t be replaced and others may leave as we exit the EU."
The uncertainty has forced Galliard to launch a recruitment drive to have a workforce that is less dependent on migrant workers.
O'Sullivan said: "Galliard needs another 120 new employees, and with Brexit looming, we decided to launch three new recruitment programmes to attract students, apprentices and new graduates, so that we can tap up young people and train them, to ensure we have big workforce so that the business can grow."
He added: "[This] will provide us with security and certainty, and therefore less exposed to Brexit headwinds."
And Weston Homes is on the hunt for 350 new staff to plug holes caused by Brexit.
Chairman Bob Weston said: "Brexit is having a huge long term impact on the London and wider UK construction industry, as we go through the next economic cycle we won't get the replacement people from the EU that the construction sector has traditionally relied upon.
"The challenge facing construction is that the starter homes market is booming, we have hundreds of homes we need to build, this requires more staff, and with Brexit, we need young domestic UK employees to come into the sector."
The recruitment push will see the firm, which currently employs 430 people, nearly double in size.