Optivo boss Paul Hackett says pledged £2bn is not enough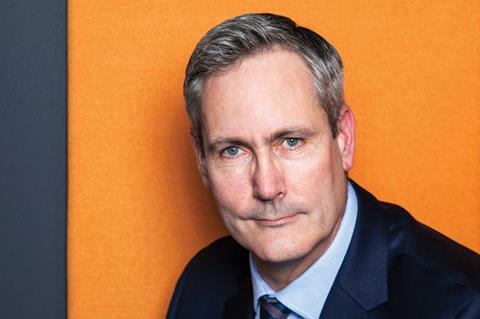 The chair of the group representing London's biggest housing associations has said the government needs to increase the sector's funding threefold if the sector is to meet the demand for affordable homes.
Last month prime minister Theresa May said the government would set up a £2bn long-term funding pot to help housing associations build more affordable housing in the coming years. The money will also be used by associations to develop schemes themselves.
But Paul Hackett, chief executive of 44,000-home social landlord Optivo, and chair of the influential G15 group of the biggest London associations, said the government needed to stump up "well over" £6bn every year to meet demand.
"The next step is looking at the scale of the challenge and how we can fund it"

Paul Hackett, G15 / Optivo
He added: "Long-term deals are something the sector has been asking for […] that's incredibly welcome. Now that it's been acknowledged, the next step is looking at the scale of the challenge and how we can fund it.
"The next question after you've established need and how to achieve it, is the funding that's required to deliver that, and that's much more significant than the £2bn that's been promised so far. You're going to need well over £6bn a year, in my estimation, to get anywhere near the number of affordable homes that are required."
The government's current affordable housing programme is worth around £2bn a year until 2021, with the additional £2bn promised by May being available for schemes running after this until 2029.
Hackett said 145,000 affordable homes are needed every year compared with the fewer than 50,000 being built now, with Optivo itself targeting build rates of 1,500 homes annually by next year.
And he said the industry should ask for the extra cash now, with the upcoming Budget due to be unveiled in 10 days' time.
However, he strongly welcomed May's announcement last month at the National Housing Federation summit in London as a sign of the sector's newfound political support.
"We've seen a huge improvement in the relationship," he said.
"It's important to give government credit for listening and understanding what housing associations are saying would be the right conditions under which we can maximise delivery."
Hackett said the wider construction industry needed to up its game regarding modular construction.
"I had a bad experience with a modular scheme where we had a contractor go bust midway througha contract. It added considerable cost and time. Historically, it's been a cottage industry."
The G15 is working with the Greater London Authority and consultant Cast on a pilot around modular build techniques and the potential for associations to work together to aggregate demand.
Read Building's interview with Paul Hackett, the G15 housing associations chief tomorrow