Brad Pitt and Peter Capaldi trustees of appeal fund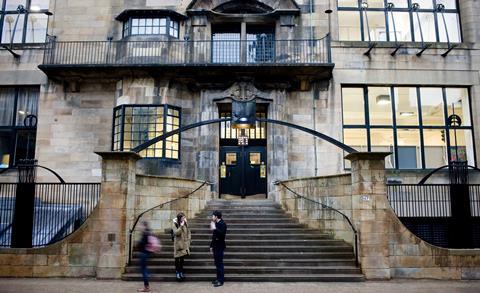 The government is to give £5m to the Mac's restoration fund.
The money was announced today by the Treasury following last month's devastating fire.
Glasgow School of Art set up an appeal fund with trustees including actors Brad Pitt and Peter Capaldi. Pitt is a fan of Charles Rennie Mackintosh's landmark building and Capaldi is a former student.
GSA director Tom Inns said the government cash was a "huge boost" towards the estimated £35 million repair bill.
"We are determined to restore the building to its former glory, as the inspirational home for the GSA's creative talent and for the delight of visitors from across the UK and the world.
"The UK government's support will help us enormously in our efforts to rebuild, and to ensure we can continue to operate at the highest level internationally, bringing the UK's creative talent to the world and allowing the world to understand the unique contribution of Mackintosh."
Danny Alexander, chief secretary to the Treasury, said: "The Glasgow School of Art is one of Glasgow's great institutions. The response to the fire from people across the world has been phenomenal.
"I am delighted to be able to announce that the UK government will be providing £5 million to the Mackintosh Appeal to help the GSA recover and then continue to thrive. It is a beautiful building of international importance so it is right that the UK government should make a contribution to its restoration.
"We will work with The Glasgow School of Art to ensure that the funding is provided at the most appropriate time to meet their needs."
Around 10% of the world-famous art nouveau building was destroyed, including the Mackintosh library, when fire broke out in the basement on 23 May.
This story first appeared on Building Design.