Funding announced to support businesses and homeowners, and assess infrastructure damage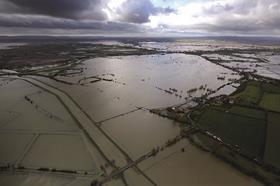 The government has pledged an extra £51m in funding to help support businesses, households and communities affected by this month's floods in Cumbria and Lancashire.
It said the money will provide local authorities with £500 to spend on each affected household, and will also be used to provide grants of up to £5,000 to help people protect their homes from flooding.
The funding will also help businesses with authorities given £2,500 per affected business, while affected farmers will be given money to help restore their land.
The government said the funding will also help the counties assess the damage to the local highway network, and allow it to understand what transport infrastructure funding could be needed to help repair damaged roads and bridges.
Around £10m in extra funding will also be given by the Environment Agency to repair damaged flood defences.
The government has also created a "Community Recovery Scheme" which it says will be worth nearly £40m and has been set up to "ensure this funding is delivered quickly and efficiently."
The scheme will be run by local authorities and provide support in the same way as other local authorities did when floods affected the South West and other parts of the country in between 2013 and 2014.