Exclusive: New government housing strategy to be announced ahead of cabinet reshuffle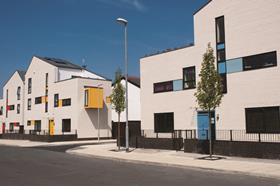 The government is expected to announce a new strategy to massively increase the volume of UK housebuilding at the end of next week, Building understands.
According to several industry and government sources involved in the process, the announcement has been earmarked to be made in the second half of next week after parliament returns from its summer break.
The announcement will come despite the fact a number of key details are yet to be tied down, and will be in advance of a cabinet reshuffle, expected within the next two weeks, in which housing minister Grant Shapps has been widely tipped to be moved to a new role.
There has been increasing media speculation in recent weeks that the government is looking at removing the requirement upon private builders to provide affordable housing in order to stimulate the supply of private housing, and is simultaneously looking at providing government backing to housing associations intent on raising money for building affordable.
Building understands the government is also considering diverting extra public funding to support the announcement, following requests from private builders for another round of the government's FirstBuy shared equity scheme.
However, it is understood that firm decisions have not yet been reached. One source said: "There is still currently quite a bit in play, and it is difficult to say exactly where the final decisions will land."
Other potential options that the government is understood to be considering include:
Tax breaks on investors in homes for private rental
A relaxation on building regulations for self-build homes
Further commitments on providing public land to developers for the construction of new homes