HCA to invite expressions of interest in developing affordable homes within days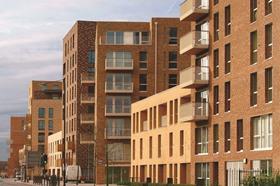 The government is set up a new agency to broker £10bn of underwritten loans to housing associations and developers looking to build homes for rent.
Homes and Communities Agency chief executive Pat Ritchie said the HCA will work with the new body when it is formed to deliver the 15,000 new affordable homes pledged by prime minister David Cameron in this morning's housing strategy.
Ritchie said the government and the HCA would be asking for expressions of interest from housing associations and developers in bids to build homes using both the guarantees and an additional £300m of funding announced this morning.
The HCA will manage the allocation of the £300m, but it will be a separate body, as yet un-named, which will broker the loans to housing associations which the government has agreed to underwrite.
This is an extension of the £40bn UK Guarantees programme announced in July, designed to kick-start development by increasing the availability of cheap loans and finance for construction.
Ritchie said: "We'll be looking for expressions of interest in a package that will include an ability to draw on the government guarantees, and alongside that, if needed, gap funding – a combination of these things.
"The Guarantees programme will work through the establishment of an aggregating agency. The thinking is it will be a means of brokering guarantee agreements, but quite what the body looks like isn't yet clear.
"We will work alongside that building upon our role as an investor an regulator of the existing affordable housing programme."
Ritchie said she expected the government to publish more detail on the expressions of interest within "a week or so."
The HCA will also re-run its FirstBuy programme, designed to help the construction and sale of homes to first time buyers who struggle to get mortgages, with £280m of new government cash.
Ritchie said the scheme, which has been popular with major listed housebuilders, will run under exactly the same terms and conditions as previous rounds, and the HCA will re-open bids from housebuilders in the next two weeks.
In addition the HCA will be given a major role, under today's plans, in brokering the sale of public land from across government to developers. Ritchie said the details of the HCA's exact role were still under discussion, but that it would see a "phased transfer" of government development sites over a period of time.
Ritchie said it hadn't yet been determined whether full ownership would pass to the HCA or whether the HCA would simply get a brokering role for the sales. "This is an endorsement of our track record of dealing with our own land and builds upon our advisory role across government."
Ritchie wouldn't say how much land would be dealt with by the HCA, but the government has already announced a programme to provide land for 100,000 new homes.