Document published in 2002 appeared to equate British standards with tougher European standards
The government gave no consideration to life safety when publishing "confusing" new guidance for cladding systems in the early 2000s, the Grenfell Inquiry has heard.
Tuesday's hearing was told how ministers had started to introduce tougher European standards into British guidance in 2002 with a planned transition period of three years.
During this period, a document was published which the inquiry heard appeared to equate the British 'Class 0' standard with the harder to achieve European 'Class B'.
But officials already knew by this point, from fire tests carried out in 2001, that a cladding product which achieved 'Class 0' might not be able to achieve 'Class B'.
A test on a cladding system containing ACM that had achieved Class 0 but only the lower European standard of Class D resulted in 20m flames, twice the height of the rig, and had to be extinguished just five minutes into the 30-minute test .
A diagram in official guidance produced in 2002 said that cladding products needed to achieve "class 0 (National Class) or class B… or better", which inquiry to the counsel Richard Millett QC suggested introduced "confusion" because people might think there was a degree of "equivalence" between the two ratings.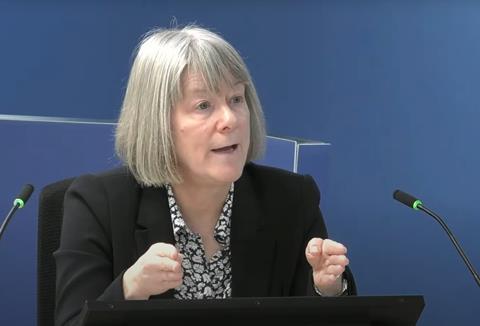 Former Building Research Establishment managing director Debbie Smith, who gave evidence to the inquiry yesterday, was involved in the drafting of the document.
Smith told the hearing that she was not aware of any confusion at the time, adding that the guidance was "discussed at length and also went out to consultation, and at no point was it raised as a particular problem or, you know, anybody raised any concerns that it was unclear".
Millett asked if Smith, in light of the 2001 test on ACM, realised that a builder who opted for a 'Class 0' cladding product - which the guidance permitted - might actually be choosing a European 'Class D' or 'Class E' product.
Smith replied: "Within the overall context of what we were doing at the time, yes, that was potentially possible. I mean, I'm not aware that that was given or I gave that particular consideration at the time."
Millett asked: "Was any consideration given to the risks to life presented by leaving class 0 in diagram in this way?"
Smith said: "Not at that time, I don't believe, no."
The inquiry was then shown a technical bulletin produced by Kingspan in May 2003, stamped with the subtitle "The plain facts", which sought to explain the new guidance.
Kingspan's combustible K15 insulation was one of the insulation materials found to have been included in the cladding system on Grenfell Tower.
The note claimed that 'Class 0' "correlates" with European 'Class B' in the new regime.
Asked if this statement was "reliable and accurate", Smith replied: "From my perspective, no."
"But you can see how industry was reading it, even at this stage, yes? You didn't at the time, but you can see how there were", asked Millett. Smith replied: "Yes."
The bulletin also claimed that the existing British standards would not be withdrawn for "five to 10" years, despite the government having said that the transition period would be three years.
It added that the government had said it will not implement the tougher European standards "until the industry is ready to adopt it".
Smith said she had not heard anything at that time which suggested the government was planning to extend the transition period, admitting that she was surprised to see the claim and that she did not know where Kingspan had got the idea.
Despite the initial plans for a three year transition period, 'Class 0' was allowed to remain in building safety guidance for a total of 16 years, only being removed in 2018 in the year after the Grenfell Fire claimed 72 lives.
The government has claimed that 'Class 0' had in fact not been permitted in cladding materials since 2006, when guidance was tweaked to introduce higher fire standards for 'filler' materials.
But the inquiry has already heard that there was widespread confusion in the industry over the word 'filler', which was taken by many to only refer to materials used to fill gaps between insulation rather than cladding panels.
Hearings have also been told that government officials failed to clarify the guidance despite repeated warnings from industry professionals following fires involving combustible cladding systems.
The inquiry continues.