Costs on first phase have reportedly risen £2bn since last update
The government is reportedly set to reveal the full extent of budget overruns on HS2 and confirm plans for money-saving delays to the job.
The BBC reports that delays will primarily affect sections from Birmingham to Crewe and from Crewe to Manchester, though design work on the Euston stretch could also be affected.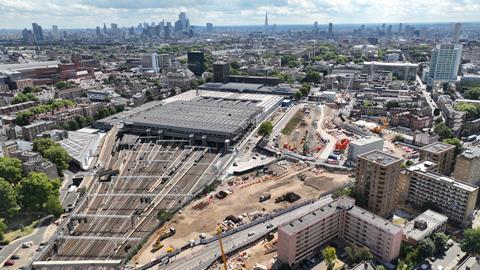 The chief executive of the company behind the rail megaproject last week confirmed it was exploring the possibility of changes to the project's phasing with the Department for Transport.
Inflation has had a huge impact on the project, with the last six-monthly update to parliament revealing that the first phase of the scheme was unlikely to meet its £40.3bn target cost.
Overruns have increased by at least £2bn since then, according to the Guardian, and a new six-monthly update on project costs is due this month.
Last month, the DfT commissioned HS2 Ltd to take over two internal government probes, Project Silverlight and Project Blue Diamond, which were set up respectively to find efficiencies in the project's first phase and across the entire job.
Despite the job having already been subject to successive cuts – with the link to Leeds axed in the 2021 Integrated Rail Plan and plans for the new Euston station reduced in scope from 11 platforms to 10 – some have forecast the eventual cost of the project to hit £100bn with current costs thought to be around £70bn.