Four-month public consultation on proposals launched today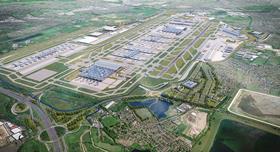 The government has laid out the conditions Heathrow must meet to get going with its £17.6bn expansion, including legally binding promises to stick to environmental targets and a ban on night flights.
The conditions form part of a public consultation on the new airport runway published today, which the government said shows Britain is "open for business" post-Brexit.
The plans reveal that the exact cost of the scheme stands at £17.6bn, compared to £14.4bn for extending an existing runway at Heathrow and £9bn for a new runway at Gatwick.
The government said it chose the new Heathrow runway because it would provide more respite from noise for local communities, could be used with the other two runways to reduce delays and from a construction viewpoint is also the most deliverable option.
Heathrow is working with a design team including architect Grimshaw and engineers Amec Foster Wheeler, Arup, Atkins, Mott MacDonald and Jacobs, and transport planner Quod. Arup, CH2M, Mace and Turner & Townsend are client advisors on the project.
Among the conditions required for the scheme to go-ahead, the government has said it will only grant development consent for the new runway if Heathrow:
Stop flights for a period of six and a half hours every night
Proves expansion can take place within legal air quality limits
Puts in place measures to mitigate air quality impacts during construction and operation of the runway, drawing on best practice from other major construction schemes
Compensates local communities affected by the expansion, including providing noise insulation for homes and schools in nearby areas
Pays homeowners 125% of unblighted market value, plus stamp duty, legal fees and moving costs, for compulsory purchases
Transport secretary Chris Grayling said: "Leaving the EU is a new chapter for Britain and provides us with a great opportunity to forge a new role in the world.
"We are determined to seize that opportunity and having the right infrastructure in place will allow us to build a more global Britain.
"By backing the north-west runway at Heathrow airport and publishing our proposals, we are sending a clear signal that when we leave the EU, we are open for business."
The four-month consultation closes at 11.45pm on 25 May.