Airport aims to limit future workforce on new runway and buildings to below 10,000 a day to keep community on board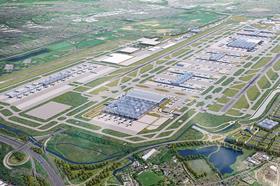 Heathrow Airport wants to make extensive use of off-site construction on its £17.6bn expansion programme to reduce the workforce it needs by almost a third to under 10,000 a day, Building can reveal.
Phil Wilbraham, promoted to Heathrow expansion programme director in December, said the client will take off-site construction to "another level" on the mega-project.
Heathrow had estimated it would need as many as 14,000 workers a day to build the new 3.5km runway and multiple terminal buildings, posing a big recruitment headache and potential friction with local residents.
But Wilbraham said the airport was working closely with its design and consultant teams – including architect Grimshaw and advisers Mace, Turner & Townsend, CH2M and Arup – to slash the number of workers needed.
"We want to do a lot of the work off-site […] To go above 10,000 operatives will get more difficult. We want the local community to support it," he said.
Wilbraham said early contractor involvement was crucial to making the off-site approach work, with Heathrow planning to consult with contractors this year ahead of more formal engagement work with builders in 2018.
He named Laing O'Rourke, Balfour Beatty and Carillion as contractors that have provided off-site work for the airport to-date, potentially putting them in the frame for expansion roles.
Wilbraham said the airport wants to build four logistics hubs across the UK – one of which will be in Scotland – to help make its off-site approach work.
The hubs will manufacture or collect components for transportation to Heathrow by rail and will likely be built alongside or nearby contractors' off-site factories.
Speaking about the likely benefits of using more off-site methods, Wilbraham said: "You will have less people working on site, it's safer compared to work on-site and you have guaranteed dry […] conditions, which should mean higher quality."
Asked what could be done off-site, he said: "We can do more in M&E, we can do interior walls and glass in larger pieces than before, roof cassettes, toilets and externally pre-cast concrete wherever we can, perhaps also for [aeroplane] stands and taxi ranks."
Heathrow is ramping up development work on its expansion programme after getting the green light from the government over rival Gatwick for a new runway last autumn - although the project has a number of hurdles to clear, including a public consultation, parliamentary approval, planning approval and aviation authority approval.
If all goes to plan, Heathrow wants to start construction in early 2021, with the runway opening in 2025 and the entire programme completing in 2030. The airport's capacity will almost double from 75 million passengers a year to between 130 and 140 million.