Team working on changes to fire safety rules were working on a 'less than bare bones' capacity, senior official says
Officials working on a review of building safety regulations following a deadly cladding fire were limited to a "light touch" approach because the government had squeezed the team's resources, the Grenfell Inquiry has heard.
Former senior civil servant Richard Harral told Monday's hearing that officials were working on a "less than bare-bones capacity" following staffing cuts at the Department for Communities and Local Government.
Harral, who was head of technical policy for building regulations at the department from 2014 to 2017, was part of a team leading a review of building regulations in response to the 2009 Lakanal fire.
The blaze, in Camberwell, south London, killed six people after the building's non-compliant cladding panels had caught fire.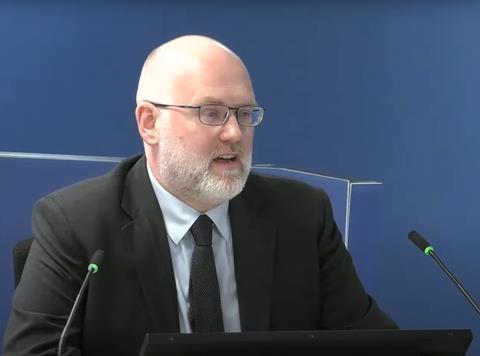 Following a 2013 inquest, coroner Frances Kirkham advised the department to revise a section of approved document B (ADB), the part of building regulations which deals with fire safety.
But officials had expanded this review, firstly to cover the entire 300-page ADB and then to a wider review of building regulations.
The inquiry has already heard this was done because the government had established a requirement that new regulations could only be added if existing ones were removed.
The review team had concluded that the changes recommended by Kirkham could only be achieved by looking at the regulations as a whole, so that ADB would not need to be the sole target for regulations that needed to be removed.
But this meant that Kirkham's original request was expanded into a major piece of work which delayed the process by years. Yesterday, the inquiry heard that almost no progress had been made by the time of the Grenfell fire in 2017, almost eight years after the Lakanal fire.
Harral said a restructure at the department in 2011 had reduced headcount by 40%, and a commitment had been put in place from 2015 to cut staff by 5% each year.
"We had been squeezed so much that we were literally… the only way we could keep up with what was going on was this very light−touch approach to reviewing and considering," he said.
He added that the scope of the review was "very large" and "complex" and that there was no protocol within the department for how to deal with the coroner's recommendations.
Asked if the team's approach to the review was the only way changes to ADB could be approved at the time, Harral said the processes on deregulation were "absolutely rigid".
He said: "You had to go through these processes. We had no other way through. You know, the regulatory requirements applied to life safety measures as much as they did to other measures."
Counsel to the inquiry Kate Grange QC asked: "So you were just stuck between a rock and a hard place?"
Harral replied: "Yeah. I mean, it was… this is what the policy was intended to do: it was intended to make it difficult to introduce new regulation and to achieve more than the cost of that new regulation and deregulation."
The inquiry has heard that a 'one in, one out' rule on new regulations introduced in 2011 had been toughened to 'one in, two out' in 2013 and 'one in, three out' in 2016.
Harral said that the proposed changes to regulations could potentially impose a "quite significant cost" on the industry.
The inquiry continues.