Housing minister declines to detail new policy, amid reports multi-billion pound fund being considered
The government is reported to be on the verge of announcing a multi-billion pound package of measures to address the building safety crisis that has seen millions of homeowners facing huge bills to repair their homes.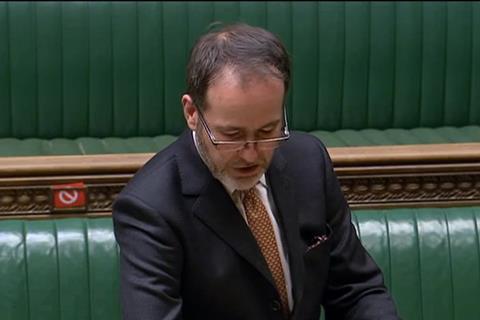 Responding to a Labour Party debate on the cladding crisis yesterday, housing minister Christopher Pincher (pictured left) told the House of Commons yesterday that the government will be "making a further announcement on this important work very shortly".
The problem faced by owners of high-rise flats in which fire safety issues have emerged in the wake of the Grenfell Tower tragedy is causing increasing concern, with homeowners unable to sell homes without undertaking expensive repair work and the Labour Party estimating the problem could affect millions of properties.
The government is under intense pressure over the issue, with 34 Conservative MPs having signed amendments to the Fire Safety Bill tabled by backbench Tories Stephen McPartland and Royston Smith, which aim to protect leaseholders from the cost of repairs.
While Pincher did not indicate what the nature of the announcement will be, BBC Newsnight reported late yesterday the government has decided to allocate extra funding, possibly running into billions of pounds, with an announcement expected within weeks.
But Labour shadow housing minister Thangam Debbonaire called on Pincher to guarantee that the government's intended solution didn't simply pile debt on to leaseholders, given recent talk of loans to homeowners.
Pincher said: "We have to find a solution that is right and proper, that demands of owners and developers that they put right the problems and defects they caused, that is fair to leaseholders who should not have to carry unfair costs for problems that they did not cause or envisage, and that is fair to the taxpayer, who is already shouldering a significant burden in remediating many buildings."
Pincher warned McPartland and Smith to withdraw their amendments to the Fire Safety Bill, as he said they would delay the progress of the legislation. Claiming that work on 95% of the buildings identified as having Grenfell-style ACM cladding had already begun, Pincher said the government was resolving the problem "once and for all, making homes safer and protecting the residents from crippling costs, and at a pace that the severity of the situation demands".
However, Grenfell-style ACM cladding is just one of the problems affecting flat blocks, with other flammable insulation types also now deemed a risk, and further problems around missing or incorrectly installed cavity fire breaks and fire doors on many properties.
Pincher's comments came as Labour won its opposition day debate on the issue, which had called for the government to set up a National Cladding Taskforce to pay upfront for repairs to affected buildings and recoup the money from building owners, contractors and developers afterwards.
Tory whips had instructed its MPs to abstain on the motion, which passed unopposed but is not binding on the government.
Citing the case of a resident, Hayley, in Leeds who was declared bankrupt after being unable to pay skyrocketing service charges on her flat in the wake of unsafe cladding being detected, Debbonaire said that further delay and inaction was not an option.
She said: "Building insurance will continue to skyrocket and the unaffordable cost of waking watch security guards will continue.
"On top of all that, the colossal cost for fixing buildings will fall on leaseholders. People will go broke. Mortgages risk going into negative equity on a massive scale as more and more flats become literally valueless.
"We need a solution to this crisis that fixes buildings and ensures that those responsible pay."
Pincher said that half of private sector flat blocks had now removed unsafe cladding and that 2,840 buildings have registered for the £1bn cladding remediation fund to pay for work on non-ACM clad buildings.
Overall, the government has allocated £1.6bn for fire safety repairs and yesterday announced that a £30m "waking watch" fund had been made open to applications.