Package of support worth "hundreds of millions" made available to buyers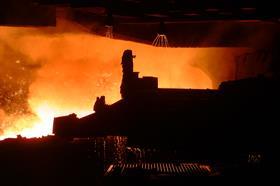 The government has said it will be willing to take a 25% stake in Tata Steel's UK operations as part of any rescue deal.
It said a support package worth "hundreds of millions" will be made available to potential buyers on commercial terms, and could support a buyer by taking a minority stake.
But it added that it would not take over any control of the business.
The government also said it is working with Tata Steel and the British Steel Pension Scheme's trustees to help minimise its impact on a potential purchaser, and potentially separate it from the business.
As well as taking a stake, the government said it will consider providing grant funding to support developing power plant infrastructure, energy efficiency and/or environmental protection measures, R&D, and training.
The announcement follows a second meeting between business secretary Sajid Javid and Tata Global chairman Cyrus Mistry this week in Mumbai where progress on the sales process was discussed.