Scheme expected to more than double insulation sector jobs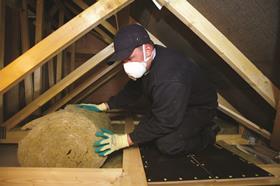 The government has published its final plans for the Green Deal predicting it will more than double jobs in the insulation sector by 2015.
The Department of Energy and Climate Change predicts that it will increase the number of jobs in the insulation sector from 26,000 to 60,00 by March 2015.
Among the changes to plans from the consultation plans, published in November, are:
The number of measures eligible to received Green Deal funding has risen from 30 to 45
Providers of the Green Deal will be allowed to have payback periods for the measures installed that are longer than the guarantees on those measures.
No registration fees for Green Deal installers and assessors for the first two years of the scheme
Green Deal assessors must declare their links to provider
Green Deal plans must be at a fixed rate of interes
Providers will no longer be required to take out a bond against insolvency
Secretary of state for energy Ed Davey said: "Broad support for a managed, tested and careful introduction of the Green Deal fits exactly with our objective to provide an excellent customer experience from day one and a market where a range of new players can readily participate.
"I am determined to make sure that, in addition to creating huge opportunities for Green Deal providers and businesses along with thousands of new jobs, this new market in energy efficiency will deliver the very best deal for consumers."
Rhian Kelly, director for business environment policy at the Confederation of British Industry, said: "There is still plenty of work to do. With the launch of the Green Deal expected towards the end of the year, the Government needs to move quickly to put everything in place. It must ensure that businesses who want to get involved are in the best position to do so and put the right policies in place to stimulate consumer demand."
DECC received over 600 responses to its consultation.