Government predicts up to £25bn of extra investment in sector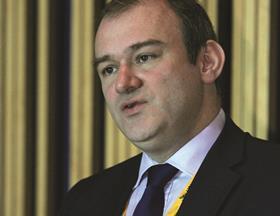 The Department of Energy and Climate Change has decided to keep subsidies for onshore wind farms at 90% of current levels despite pressure from the Treasury to make deeper cuts.
Liberal Democrat energy secretary Ed Davey said the results of a review of the Renewable Obligations scheme, the government's main subsidy for supporting large scale low carbon electricity generation, would stimulate up to £25bn of new investment in the UK by 2017.
However, there will be a further review of costs in the onshore wind sector over the autumn.
In this Wednesday's announcement DECC also decided to keep support for large scale solar farms at its current level although this will be reviewed later this year.
The rate of support for offshore wind will decrease more slowly than had been expected to 1.8ROCs from 2016 rather than 1.5ROCs from 2014.
Davey said: "The support we're setting out today will unlock investment decisions, help ensure that rapid growth in renewable energy continues and shows the key role of renewables for our energy security."
But Seb Berry, head of public affairs for solar firm Solarcentury, said: "The consultation response confirms that solar photovoltaics are already a more cost-effective technology than offshore wind and yet investors in the cheaper technology are now in limbo land awaiting yet another consultation and unable to commit to projects beyond March 2013."
Martin Wright, chair of the Renewable Energy Association said the review would "inhibit investment" in solar and onshore wind.
Chancellor George Osborne had been lobbying for deeper cuts to ROC subsidies, especially for onshore wind, which he had argued should be reduced by 25%.
But it emerged this week that he was prepared to accept support close to current levels if the UK gave great priority to new gas fired power stations, a move many commentators have said would make it very difficult for the UK to meet its carbon emission reduction targets.
Davey said: "There has been a misunderstanding that we don't see a very positive role for gas both as a back-up [to renewables] and in a strong role on its own."
"Renewables need gas and gas needs renewables, we are many years from a situation where that isn't the case," he said.