Projects expected to start on site this autumn
The government has confirmed the first 50 schools in the first wave of its £1bn School Rebuilding programme.
The entire programme is due to deliver 500 rebuilding projects across the next decade.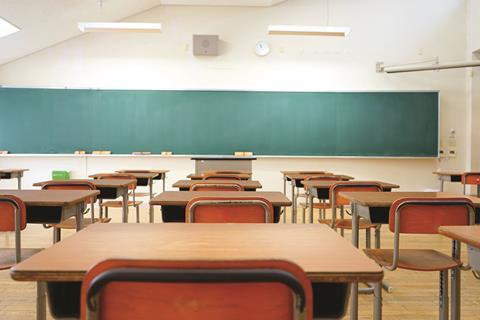 The schools (see below) include primary, secondary and special schools as well as a sixth form college in West Yorkshire, with more than 70% of the schools in the North and Midlands.
The school projects will be made greener in order to help meet the government's net zero target.
The government has also announced 21 new free schools (see below). Ten of these are opening in some of the country's most deprived areas, while three are in opportunity areas.
More than £10m will also be invested to support school sports and swimming facilities in England and will be distributed through Sport England.
Project planning for the 50 rebuilds is already advanced following site visits last year, so construction can begin on the first projects from this autumn.
The majority of the first 50 rebuild projects under the programme are expected to be completed within three to five years.
The investment of over £1bn to support the first round of the school rebuilding programme comes on top of the government's allocation of £1.8bn for school repair and upgrade projects over this coming year.
Further details about the School Rebuilding programme will be set out later this year. Projects will range from replacing or refurbishing individual buildings through to whole school rebuilds.
The government is currently in the process of reprocuring its £7bn school building framework.
School Rebuilding Programme: First 50 schools
Birmingham
King Edward VI Handsworth Wood Girls' Academy
Bournemouth, Christchurch and Poole
Oak Academy
Cambridgeshire
Sawston Village College
Coventry
Cardinal Newman Catholic School
Coundon Court
West Coventry Academy
Derbyshire
Somerlea Park Junior School
Wilsthorpe School
Doncaster
Ash Hill Academy
Ridgewood School
Essex
The King Edmund School
Gloucestershire
Katharine Lady Berkeley's School
Thomas Keble School
Hammersmith and Fulham
Fulham Cross Academy
Hampshire
Bay House School
Hertfordshire
Pinewood School
Kingston Upon Thames
Coombe Boys' School
Kirklees
Greenhead College
Lancashire
Lytham St Annes High School
Tarleton Academy
Whitworth Community High School
Leicester
Catherine Infant School
Leicestershire
The Castle Rock School
Manchester
Sandilands Primary School
North Tyneside
Whitley Bay High School
Nottinghamshire
Sutton Bonington Primary School
Yeoman Park Academy
Rochdale
Kingsway Park High School
Littleborough Community Primary School
Newhouse Academy
Sefton
Deyes High School
Shropshire
Belvidere School
St. Helens
Longton Lane Community Primary School
Staffordshire
Wombourne High School
Sunderland
Farringdon Community Academy
Sutton
Greenshaw High School
Trafford
St John Vianney School
Wakefield
Minsthorpe Community College, A Specialist Science College
Wandsworth
Francis Barber Pupil Referral Unit
Warwickshire
Hartshill School
Kineton High School
Southam College
West Sussex
Greenway Academy
Wigan
The Byrchall High School
Fred Longworth High School
St John Fisher Catholic High School
St Thomas' CofE Primary School, Leigh
Wolverhampton
S.Peter's Collegiate Church of England School
Worcestershire
Pershore High School
Waseley Hills High School
New free schools: The full list
Austin Park Primary Academy, Worcestershire
Victoria Academies Trust
Beacon Secondary Academy, Gloucestershire
Cotswold Beacon Academy Trust
Caderton Primary Academy, Oldham
The Harmony Trust Ltd
Chapelfield Primary School, Kent
Chancery Education Trust
Dixons Manchester Academy (Secondary)
Dixons Academies Trust Ltd
Hanwood Park School for Boys, Northamptonshire (Secondary)
Southfield School
Infinity Park Spencer Academy, Derbyshire (Secondary)
The Spencer Academies Trust
Kings Leadership Academy Farnworth, Bolton (Secondary)
The Great Schools Trust
Kings Leadership Walton, Liverpool (Secondary)
The Great Schools Trust
Perranporth Secondary School, Cornwall (Secondary)
Truro & Penwith Academy Trust
Rugeley John Taylor School, Staffordshire (All-through)
John Taylor MAT
SGS Parkfield School, South Gloucestershire (Secondary)
South Gloucestershire and Stroud Academy Trust
Star Leadership Academy Wolverhampton (Secondary)
Star Academies
Star Leadership Bury (Secondary)
Star Academies
The Avenue CofE Primary School, Derbyshire
Derby Diocesan Academy Trust
The Wheatridge Primary School, Gloucestershire
The Crypt School
Trinity Academy Brighouse, Calderdale (Secondary)
Trinity MAT
Unity Romford Primary School, Havering
Unity Schools Partnership
Wisbech Free School, Cambridgeshire (Secondary)
The Brooke Weston Trust
Wootton Park (Hardingstone), Northamptonshire (Secondary)
The Northampton Free School Trust
XP Gateshead (Secondary)
XP School Trust Limited