Over half of the pipeline will be funded by private finance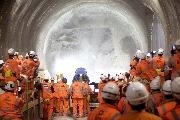 The government has revealed its updated £500bn-plus National Infrastructure and Construction Pipeline.
The new fund includes infrastructure investments of over £2.6bn to improve transport networks; a multi-million pound package to accelerate the future of broadband and £7.2bn to support the construction of new homes.
The pipeline has had 20 new projects added to it since March and includes the Oxford to Cambridge expressway, while major projects in the pipeline include the Thames Tideway Tunnel, rollout of smart meters and the upgrade of the A14.
Over half of the pipeline to 2020/21 is to be funded by private finance and the government has also published a new funding and finance supplement to help attract further private sector investment in the UK's infrastructure projects.
The government plans to invest £300bn of the total £500bn by 2020/21.
Chief Executive of the Infrastructure and Projects Authority (IPA), Tony Meggs, said: "Creating the IPA has enabled us to produce a more comprehensive pipeline. Having the visibility and certainty of a pipeline of construction and infrastructure investment allows industry to invest strategically for the market, not just tactically for the project."
Alasdair Reisner, chief executive of the Civil Engineering Contractors Association, said: "If the UK infrastructure sector is to plan for the investment in skills and innovation that will be required to deliver world-class infrastructure in the coming years, it is vital that companies are able to strategically allocate funding on a basis of projected need.
"The pipeline is a crucial tool that enables companies to plan ahead and deliver optimal outcomes for clients, taxpayers, and communities."
Nick Baveystock, director general of the Institution of Civil Engineers (ICE): "This updated National Infrastructure and Construction Pipeline sets out the value of infrastructure to the economy and provides long term visibility to industry."